Masks are required of students and staff for in person learning, and we will follow all CDC guidelines. This information is subject to change due to local outbreaks. We will keep you posted via Remind if anything changes.
Here is the official Immanuel Lutheran School COVID Preparedness Plan: COVID Plan last updated 8-13-20
If your child is sick, please follow this covid exposure guide: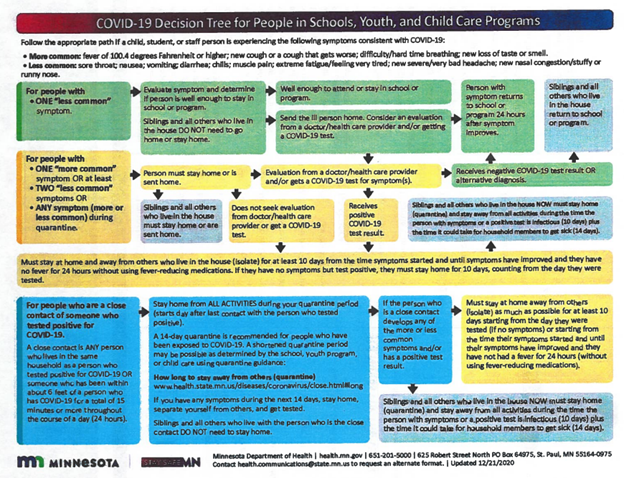 Students living in the Nicollet district can request/order free lunches each week. Meals are for ages 0-18 living in the ISD 507 school district or attending NPS for school. Click here for the order form or go directly to the NPS website to sign up for meals weekly. Meal pick up is in the Commons at NPS on Monday from 5-6 (2 days of meals) and Wednesday from 5-6 (3 days of meals).
Hot Lunch Program
Hot lunch is offered to all students, Pre-K through 8th grade. Lunch will be eaten in classrooms, delivered on individual (covered) trays by the school cook. The 2020-2021 hot lunch prices are as follows:
PK-4 cost

is $2.75 for a single lunch, $27.50 for 10 tickets. Please pay in increments of 10 lunches.
5-8 cost

is $2.85 for a single lunch, $28.50 for 10 tickets. Please pay in increments of 10 lunches.
Ala Carte: Children may purchase a punch ticket for $10.00. Each punch is worth 50 cents. Main meal is $1.00, so two punches are used for seconds.
Milk

: Extra milk or milk for snack breaks are $0.35.
Adult Visitors

: $3.85

Please note after five unpaid meals, food service may be discontinued pending payment. Lunches need to be paid at least 10 in advance.
School Closings and Delays
If either New Ulm or Nicollet closes school for weather, we will also close. Notice of weather related and emergency school closings for Nicollet and New Ulm public schools will be broadcast on the following media stations: 
Radio: KTOE, KDOG, KXAC
TV: WCCO-4, KEYC-12